Lahore Se Karachi is a First Road Travel Movie in Pakistan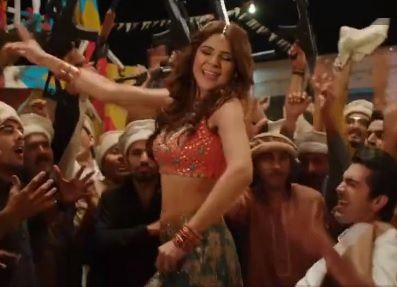 As we know the Pakistani film industry is going well through the introducing more and more talented work in the form of New Pakistani movies, 2015 is a lucky year for Pakistani film industry revival. After the big released movies Bin Roye and Wrong Number in Pakistan now the all expectation connects to Karachi Se Lahore. The movie trailer has released in which shown the Item Pakistani Movie Song performed by Ayesha Omer with the full of energy and beautifully move the legs.
The film director, Wajahat Rauf said he has no try out like that story of the film in Pakistan, KSL will introduce a very different and unique concept and comedy. This is a Pakistani film, which contains the lone travel story. It will present 36 hours travel and hurdles faced by the characters, Director Rauf said this film will not like other movies Jalaibee and Good morning Pakistan, although Karachi Se Lahore will great work at the Box Office and the film comedy will win the hearts of the audiences.
Ayesha Omer is eager to release the movie, Karachi Se Lahore is her debut movie and the best thing is film premier has also screened in Hollywood which is luckiest moment for Ayesha Omer that her debut movie displayed internationally.
Ayesha Omer said in an interview she is much excited, but also nervous also. She is busy in promoting the movie and in interviews so she has exhausted and the situation is creating some confusion. Ayesha expressed the whole team, in the movie worked hard for the promotion of the film she said if she has to selected one option between the confusion and excitement she will just say it's much excitement. She is confident for her movie Karachi Se Lahore.
The film story is about the true friends, Shehzad Shiekh wants to go to Lahore for his girlfriend to stop her wedding and Ayesha Omer and her brother support him, she takes her father's Jeep to travel Karachi Se Lahore.
While Aysha Omer promoting the film premier has shared her experience about the response she her most of the friends are out of the showbiz they had sincerely told her the film is seeing outclass and will be impressive. As we all know Ayesha Omer is popular for the comic serial of Ary Digital Bulbulay she is known as Khubsurat so she always wants to protect her image by playing specific characters. The Pakistani Drama Song of Bulbulay is an amazing and hit for its comic music.
Karachi Se Lahore will be premiered internationally in different countries included UAE, UK, US, New Zealand and Australia. The veteran Pakistani star Javed Sheikh said feels proud of his son Shaehzad Sheikh's performance, Shehzad said he has enjoyed to work in the film along with his father and the talented star Rasheed Naz has learned to work with them. According to Javed Shiekh he is excited to know through Wajahat that Shehzad gave his best and also progressing step by step.